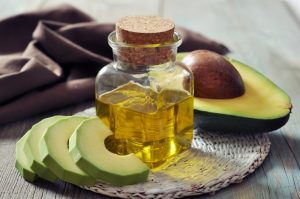 A beautiful emerald fruit, full of vitamins, minerals and fatty acids. It provides nourishment, moisture, vitality as well as protection for skin and hair. It does not make hair greasy. Instead, it relieves irritations, softens and makes hair elastic. What is more, it has anti-age action. Which fruit is it? Avocado! How can this fruit be used for? Today, we are presenting top ten applications of avocado oil.
1. Acne Skin Care – avocado oil owns very high antibacterial and anti-oxygenating action, therefore it is so good at removing all impurities form face. Moreover, the oil is able to prevent further acne development by easing its symptoms.
2. Dry Skin Care – equally well avocado oil deals with dry skin that requires immediate and deep hydration. This oil full of vitamins strengthens natural lipid barrier of epidermis, protecting at the same time skin against uncontrolled water loss.
3. Damaged Skin Care – avocado oil appears to be superbly efficient as a product for highly damaged and irritated skin care. This looked-for action is possible due to features accelerating regenerating, relieving, and wound healing processes.
4. Hair Regeneration – oil hair treatment performed with the use of natural oils is a simple procedure followed by many women. Thanks to using avocado oil (either in its pure form of as an ingredient of hair mask) hair is gifted with reinforcement, flexibility and shine.
5. Anti-Hair Loss Treatment – beneficial action of avocado oil is not only the perfect care spread over strands but also healing scalp problems. When massaged into scalp, this green-fruit oil strengthens hair bulbs and decreases hair loss considerably.
6. Lightening Up of Skin Around Eyes Area – just a few knows that avocado oil can be applied as an under eye serum. If applied around eyes, it provides skin with highlighted look and even skin tone.
7. Fingernails Nourishment – avocado oil is a great alternative to fingernails conditioners. When massaged into fingernail plate, it provides strengthening, smoothness and faster growth of healthy fingernails.
8. Hand Care – avocado oil can be used instead of a regular hand cream. Since it contains plenty of vitamins, minerals and other nourishing substances that delivers relief to chapped hands and restoring appropriate level of moisture.
9. Foot Care – similarly to hand care, avocado oil can be also used for foot massage. Once moisturized and nourished with avocado oil, feet become velvet smooth. Moreover, skin will be no longer chapped.
10. Prophylactic – the last position on the list concerns preventing disease or infection from development. In short, avocado oil can be applied when we notice some problems affecting our skin, hair or fingernails. This oil also works as a shield preventing all possible skin, hair or fingernails damages.